Virtual Run, Walk, Roll Against Bullying
February 23, 2021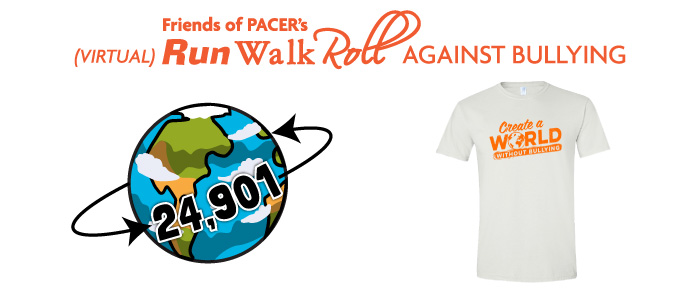 Join the virtual Run, Walk, Roll Against Bullying during the month of April, and help create a world without bullying by walking, running, rolling, strolling, biking, hiking, or wheeling, either indoors or outdoors. Throughout the month, participants can record miles to contribute to the collective goal of reaching 24,901 miles, the circumference of the earth!
We can go farther together! Ways to support the event include:
Register for free to participate! Registration, as a team or individual, includes access to log miles, join the Facebook page, share digital race assets to help with your goal, and the opportunity to win prizes!
Donate or fundraise! While registration for the event is free to allow everyone to participate, donations and fundraising are encouraged and appreciated. Participants can contribute $25, $50, $100, or more. At each level of giving, you'll be supporting the important work of PACER's National Bullying Prevention Center and helping provide free resources to students, families, and educators.
Purchase event merchandise! (orders open March 1) Order custom-designed t-shirts, bandanas, and wristbands to show everyone that "we can go farther together" to create a world without bullying. Purchase all three items—t-shirt, bandana, and wristband—for a special offer of $30.
---